Sunday, August 26, 2012
Giveaway for a 16x20 canvas from
enter giveaway at
Tuesday, August 7, 2012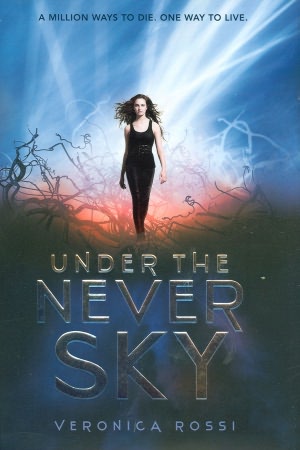 Under the Never Sky
(Under the Never Sky

#1)
by Veronica Rossi
Hardcover: 384 pages
Publisher: HarperCollins; First Edition edition (January 3, 2012)
Goodreads Summary:
WORLDS KEPT THEM APART.

DESTINY BROUGHT THEM TOGETHER.

Aria has lived her whole life in the protected dome of Reverie. Her entire world confined to its spaces, she's never thought to dream of what lies beyond its doors. So when her mother goes missing, Aria knows her chances of surviving in the outer wasteland long enough to find her are slim.

Then Aria meets an outsider named Perry. He's searching for someone too. He's also wild - a savage - but might be her best hope at staying alive.

If they can survive, they are each other's best hope for finding answers.
***************************************************
My Opinion:
This story is told in third person with each chapter alternating between Aria and Perry . The reason I like chapters set up this way is because it helps me to get to know each of them better without lingering in one place long enough for me to forget the feel of the other character.That allows the story to flow more smoothly for me.
I liked both of the main characters straight away. Aria is smart, talented, and very determined to find her mother. She becomes a strong survivor after being dumped in a place with extreme adverse conditions compared to life inside the pod. Perry has not had the pampered and carefree life that those who live behind the domes have. He has to fight for everything he needs and is a real alpha male who comes to Aria's rescue.
These two suddenly find themselves on a journey together, each searching for a missing loved one. Along the way they have to face deadly weather, cannibals, wolves and the people that threw Aria "Outside". I'm sure you have guessed by now that during their travels Aria and Perry start developing some sort of feeling for one another (after a very rocky start) but the pacing was just right I think.
The one criticism I have would be that in the beginning of the book I wish more was written about Aria's life in the pod to give me that day to day feel for it.
Overall I enjoyed this well-written, original dystopian. I'm looking forward to reading the sequel,
Through the Ever Night
.
4.75/5
I read this book as part of Dystopian August.
Wednesday, August 1, 2012
Legend By Marie Lu
Hardcover: 336 pages
Publisher: Putnam Juvenile (November 29, 2011)
Goodreads Summary
What was once the western United States is now home to the Republic, a nation perpetually at war with its neighbors. Born into an elite family in one of the Republic's wealthiest districts, fifteen-year-old June is a prodigy being groomed for success in the Republic's highest military circles. Born into the slums, fifteen-year-old Day is the country's most wanted criminal. But his motives may not be as malicious as they seem.

From very different worlds, June and Day have no reason to cross paths—until the day June's brother, Metias, is murdered and Day becomes the prime suspect. Caught in the ultimate game of cat and mouse, Day is in a race for his family's survival, while June seeks to avenge Metias's death. But in a shocking turn of events, the two uncover the truth of what has really brought them together, and the sinister lengths their country will go to keep its secrets.

Full of nonstop action, suspense, and romance, this novel is sure to move readers as much as it thrills.
*************************************************
I'll start off by saying I loved this book! I don't know why I'm always a little surprised when I read a dystopian and love it. Maybe it's the typical love triangle or love/hate relationship between two strong characters I'm expecting.
Although this book has some of the same characteristics as other dystopians, it was done in a way that didn't make me want to just skim through parts of it. The story flowed nicely and advanced along quickly enough that I didn't get bored, but not so quick that I felt like it was rushed.
The characters, Day and June, were well developed, although I would have liked to get to know Tess a little more (maybe in the next book?).
Two fifteen year old kids accomplishing so much may be unbelievable to some people but who wants to read about unremarkable characters in a dystopian? I like having young "superheroes" in the story.
Kudos to Marie Lu for a well written book. It has left me wanting to follow Day's and June's ventures into the sequel. I found Legend to be very enjoyable and I would recommend it.
5/5


Posted by

mamabunny13
at 6:00 AM
2 comments: